By MEMRI –
Hours before the opening ceremony of the FIFA World Cup in Doha on November 20, 2022, it emerged that India's wanted radical Islamist preacher Dr. Zakir Naik had arrived in the Qatari capital at the invitation of Qatar to deliver da'wa-related "religious lectures." Da'wa, proselytizing and inviting non-Muslims to convert Islam, is an Islamic practice. From Urdu and Arabic media reports discussed below, it appears that da'wa is an unannounced goal set by the state of Qatar for the FIFA World Cup tournament.
Zakir Naik is a controversial Islamist who currently lives in Malaysia. He is wanted by the Indian government for money laundering and hate speech against non-Muslims and is barred from entering Canada and the United Kingdom. In the past, Naik has been welcomed to Doha personally by Sheikh Tamim Bin Hamad Al Thani, the emir of the State of Qatar, according to a 2019 social media post by the radical preacher that was retweeted on social media platforms as he arrived in Doha for the FIFA World Cup.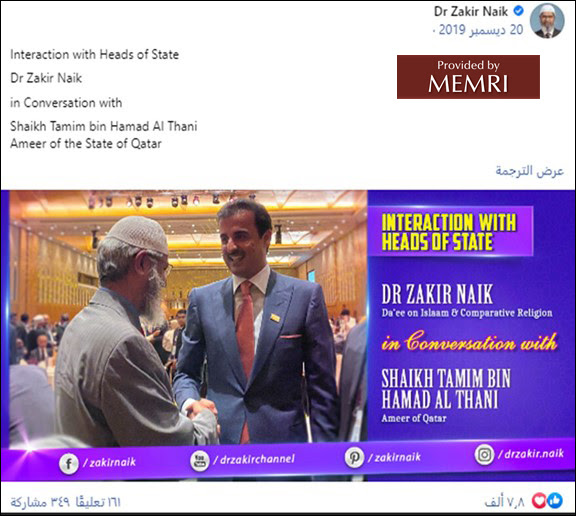 In 2019, Qatari emir Sheikh Tamim Bin Hamad Al Thani welcomes Zakir Naik
Faisal Alhajri, a television host at Qatar's state-run sports news channel Alkass, said in an Arabic-language tweet: "Preacher Sheikh Zakir Naik is in Qatar during the World Cup and will give many religious lectures throughout the tournament."Several video clips available on social media showed Zakir Naik arriving at a FIFA venue.In another video, the Indian preacher is seen together with Qatari sheikhs sharing a meal at a dining table.
Zakir Naik's arrival in Qatar is not surprising because the Qatar's royal family, the Al Thanis, has been known for the past several decades for sheltering Islamists, jihadi commanders, (including Khalid Sheikh Mohammed, "the principal architect of the 9/11 attacks" – according to the 9/11 Commission Report, and other religious organizations.A Twitter handle, which impersonates Zakir Naik and has his image as its profile picture, tweeted as he arrived in Doha: "Thank you Qatar, the country and the people…"
Zakir Naik's name has been a familiar for years in the towns of Qatar, for his role in da'wa, especially in converting non-Muslims to Islam. For example, in a 2016 video available on the internet, Zakir Naik assists in the conversion of four non-Muslims to Islam at an event organized at the Katara Cultural Center in Doha. In the video, Zakir Naik recites the Kalimah (the words recited to proclaim one's faith in Islam) and the four converts declare: "I bear witness that there is no god, but Allah…"

In a 2016 video, Dr. Zakir Naik assists four non-Muslims in converting to Islam.
For the duration of the FIFA World Cup tournament, the Qatari government has planned a major da'wa campaign. Qatari officials and government-funded institutions have recruited at least 2,000 volunteers to convey the message of Islam directly to soccer fans arriving from around the world as well as through thousands of books, posters, and pamphlets to be distributed on the occasion to advance this religious goal, according to a detailed report published by a pro-Taliban Urdu-language daily published from Pakistan.
Commenting on the religious mission at the FIFA World Cup, Qatari journalist Ebtesam Aal Saad also tweeted that Sheikh Zakir Naik and Sheikh Omar Abdelkafy, an Egyptian Islamic cleric, "came to Qatar to fulfil the superior religious mission, which Qatar has set as one of its goals for the success of the World Cup on the religious level."
*******
Qatar Promotes Islam To FIFA World Cup Attendees In Comprehensive Da'wa Campaign Entailing Interactive Islamic Exhibition, Guest Centers, Information Booklet In Multiple Languages
In preparing for the influx of tourism during the 2022 FIFA World Cup, Qatar has worked to establish a comprehensive set of activities and content aimed at promoting Islam to foreign visitors. The wealthy nation's Da'wa, or Islamic outreach, campaign includes activities for visitors, such as the Interactive Islamic Exhibition, guest centers, and the distribution of a booklet about Islam in multiple languages. Qatar has also welcomed a group of prominent preachers to take part in its Da'wa campaign, including extremist Islamist preacher Zakir Naik. This report will highlight Qatar's promotion of Islam to attendees of the football World Cup, and some social media reactions to those efforts.
One of the leading organizations in the effort to promote Islam to football fans is the Qatar Guest Center, which was established in 1998 by the Sheikh Eid bin Mohammad Al Thani Charitable Association. According to Elbalad News, 2,000 people have volunteered to participate in the Guest Center's efforts to invite non-Muslims to convert to Islam during the World Cup. In addition, the Guest Center has dedicated 10 vehicles to Da'wa activities, and ten tents which present short videos about Islam in different languages.
Another Qatari organization promoting Islam to visitors is the Abdullah Bin Zaid Al Mahmoud Islamic Cultural Center, which is part of Qatar's Ministry of Awqaf and Islamic Affairs. On November 13, 2022, the center unveiled the Interactive Islamic Exhibition at the Imam Muhammad ibn Abd Al Wahhab Mosque, open to male and female visitors. According to Dr. Saleh Al-Akhan, the center's Director and Head of the Ministry's Activities Team during the FIFA World Cup Qatar 2022, the Interactive Islamic Exhibition entails an introductory tour of the Imam Muhammad ibn Abd Al Wahhab Mosque, through which visitors learn about the mosque, its Islamic architecture, as well as about aspects of the Islamic faith, and about other historic mosques in the State of Qatar. In addition to the exhibition, the center launched an electronic booklet titled "Understanding Islam" in several languages including English, French, Spanish, German, Russian and Portuguese.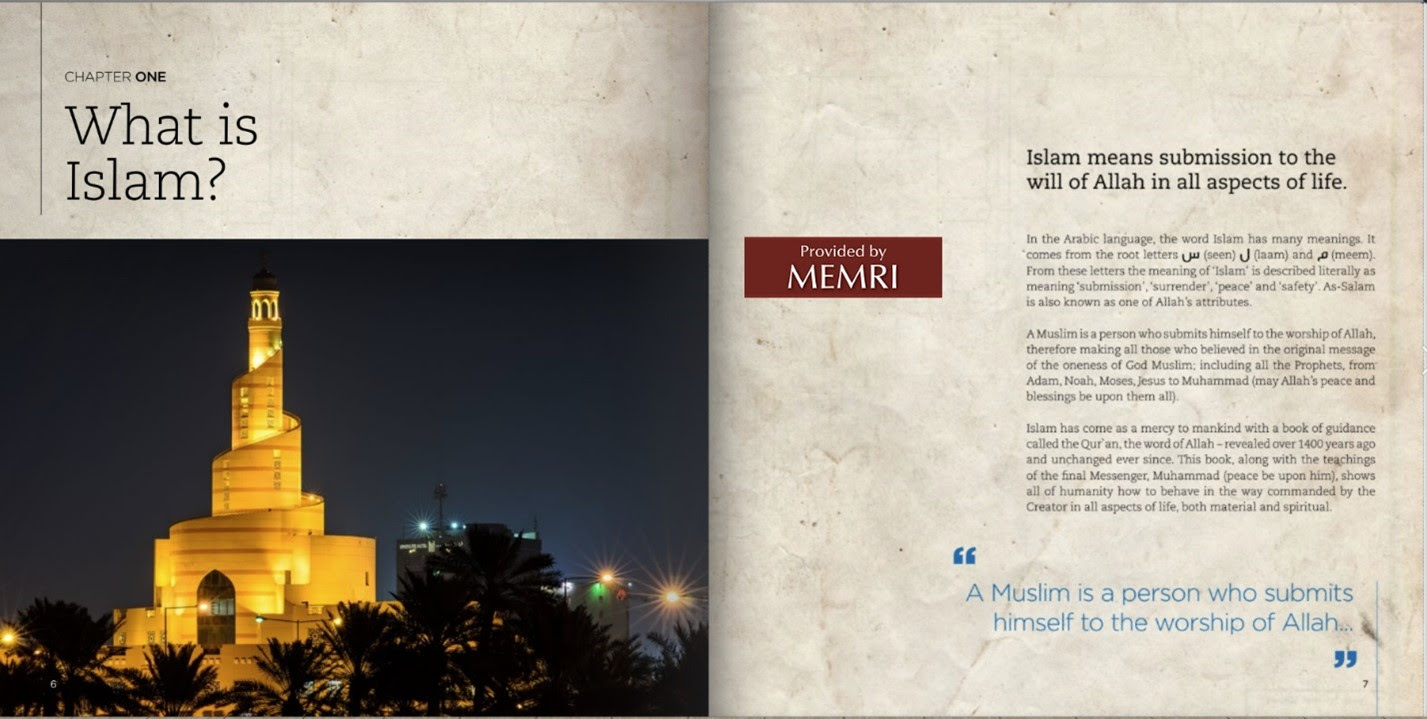 To facilitate easy access to its materials, the center placed QR codes inside hotel rooms, which allow guests to easily access its materials about Islam.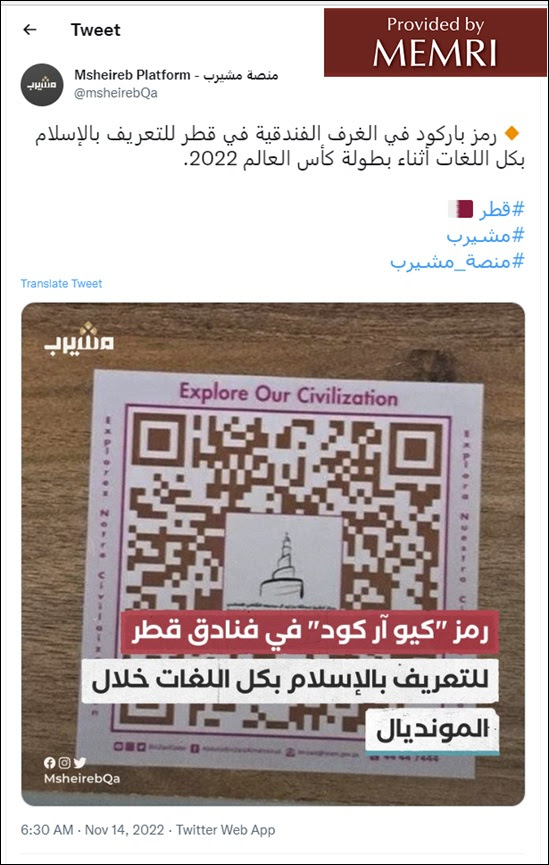 In addition, Qatar has installed billboards with English quotes from hadith — sayings attributed to the Prophet Muhammad. For example, on October 28, 2022, the "WC_Qatar22" Twitter account posted images of four billboards with different hadith in English.
Similarly, electronic billboards in local shopping malls featured English-language ads for the site Exploringislam.com, depicting Muslims expressing the importance of Islam in their lives.
Along with these efforts, Qatar invited prominent Muslim preachers from different countries to take part in Da'wa activities, including Indian Islamist preacher Dr. Zakir Naik, Egyptian Islamist Dr. Omar Abdelkafy, and others. Naik, who is based in Malaysia, is wanted by the Indian government on charges of money laundering and hate speech against non-Muslims, and is barred from entering Canada and the UK. His television channel "Peace TV" is banned in India, Bangladesh, Sri Lanka, Canada, and the UK.
So far, Qatar's promotion of Islam has prompted some visitors to take part in Islamic practices or to fully convert to Islam. While there are several unverified reports claiming that dozens of people have embraced Islam thanks to the Da'wa efforts, some credible sources have confirmed a number of cases. For example, the Twitter account of the Arabic Post, a news website, tweeted a video showing a Mexican man being led by a preacher in making the Islamic declaration of monotheism in English and Arabic.